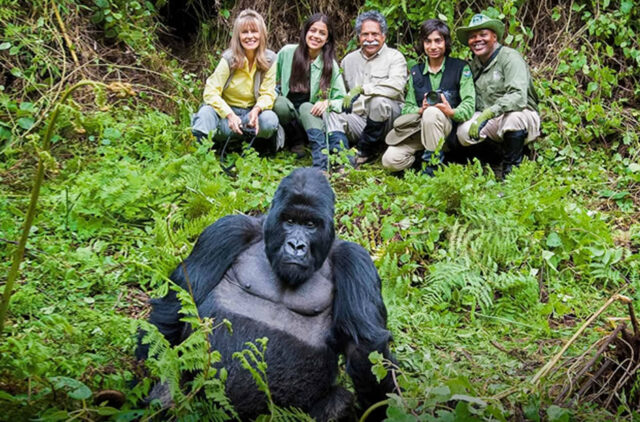 Of recent, we had a client who traveled with us for a gorilla safari in Rwanda, and all that she wanted after her tour is; to share the experience with others and also give some tips on what is required while trekking gorillas in Rwanda and below is her story.
First and foremost, gorilla trekking was the main activity on her trip and she would like to use this opportunity to recommend all people interested to try and have the same trip. She said Rwanda is an incredible country, safe and stable, clean with realistic governance and hospitable people.
Gorillas in Rwanda are found in Volcanoes national park which is situated in Musanze province at the foothills of the Virunga Volcanoes. Trekking gorillas was a well-arranged activity that began as they reported at the park headquarters to be briefed about the gorilla trekking including all the dos and don'ts while with the gorillas. Afterward, she was assigned a gorilla group to visit; however, she wasn't sure if anyone can request a gorilla group of his or her own interest.
To our experience, it's possible to request a visit to a particular gorilla group that you could prefer to track. This is always done earlier mainly through your safari guide as he will approach the park officials and addresses your issue which is fine if done in time. This is done to some clients who need a specific gorilla experience such as gorilla groups that involves much hiking while others want those which are easy to find. She added that it is unpredictable how long the trekking will take because it varies from 2-6 hours depending on the movement of gorillas in the forest.
On her first visit; she trekked the Amahoro Group made of 18 gorillas varying through all ages. It was a 30 minutes drive on a rough road from where she had spent a night to the park headquarters. On reaching, they spent 20 minutes being briefed and later had to put on the trekking gears such as the waterproof-type pants gumboots among others.
Afterward, they started off the trekking in a forested bamboo area, it was a sunny morning but they still continued to a reasonably open grounds area but with less light where they got the gorillas as they were running their daily activities. She was happy because she trekked in good weather with no rain. She went on and recommended all trekkers put on layers due to the fact that the weather is unpredictable however you can get quite hot after walking.
On her second visit; she trekked the Kwitonda Group consisting of 17 gorillas including 3 Silverbacks. It was a 20 minutes drive on an uneven road from her place of accommodation to the park headquarters. It took them 1-hour trekking in the forest, walking up and down the steep forest through a worn path. The path had little stinging nettles. On reaching the gorillas, they spend 1 hour with the gorillas as it is the maximum time allowed while taking some memorable photographs. She went on and advised on the best type of camera required in taking photos;
Fast lenses are needed in order to take clear pictures since the gorillas are always in areas without direct sunlight however sometimes gorillas can be found in places with direct sunlight. Most of her photos were taken around ISO800, f2.8-5, and shutter speed of 1/10-1/240
She had bought a monopod but she did not use it just because gorillas were all around and the guide was regularly making them move to make sure they maintain a 7m buffer distance between them and the gorillas. The monopod takes a little while to set up, the space can often be cramped as you will have 8 tourists and the guides all stuck in the jungle and the gorillas may be in a pose position that you may want for just a short period of time.
In her group, there were two keen photographers who had full-sized tripods2 full-frame cameras, a 70-200mm lens plus a wider fast lens. However, both of them left it and shot handheld cameras or occasionally with a monopod when the gorillas started resting after eating.
She used a D90 (1.5x crop sensor) and 70-200mm VR lens which looked to be fine for over 85% of the shots she wanted. Their guide on the second trekking was more strict on the distance between them and the gorillas however it could reduce from 2-5meters since the gorillas were mobile. This made her 70-200 mm lens on a Nikon crop sensor somehow long but a bit ok for most of her photos.
A zoom lens is better since it becomes too difficult while taking steps forward or backward while in the jungle.
It became tricky for her to get a clear view of the gorillas due to the little light in the jungle as well as the dark colour of the gorillas, so she advised all trekkers to keep checking while shooting.
Her first sight of gorillas was really amazing. "I couldn't hesitate the urge to blaze away with the camera taking memorable photos (particularly knowing I only had 1 hour with them), however later on I found it was nice to sometimes just stop taking photos and enjoy the little time with these beautiful creatures, watching their behavior e.g. eating, playing and grooming each other." She added.
It wasn't all that way easy for her as she was aiming at one or two gorillas at a time so as to get the best shot. The hour didn't last for so long and by all means, she took the most incredible photos to treasure and also show to her friends.
Hope the above tips and experience will help you while planning a tour. Don't miss trekking the gorillas as it is the best experience of a lifetime!